DISCLOSURE: THIS POST MAY CONTAIN AFFILIATE LINKS, WE MAY RECEIVE A COMMISSION IF YOU DECIDE TO MAKE A PURCHASE THROUGH OUR LINKS, AT NO COST TO YOU. OUR FULL DISCLAIMER.
Are you dissatisfied with your wordpress blog hosting company? I was too, read about my horrible experience with Bluehost.
How to Migrate your WordPress Blog to a New Host
If you choose the right wordpress blog hosting company, migrating your blog is a breeze. A few years ago I had to migrate my blog to a new host. I was worried about the difficulty it would be and if my blog would go down. However, I chose the best blog hosting company out there, PeoplesHost and they made the migration so simple.
Migrating your blog to PeoplesHost
Once I was done putting up with Bluehost's useless customer service and blog downtime, I decided to research who the best wordpress blog host was. I found my answer in PeoplesHost.
PeoplesHost made the migration quick and painless. I simply had to:
Start an online chat with PeoplesHost letting them know the site I wanted to migrate
They set up an online order for me to begin a new hosting account with them
I completed the account online and paid for a year of hosting
I provided their customer service team with access to my Bluehost account
I told them the day and time I wanted the blog migrated
They migrated everything for me
Closed out my Bluehost account —- ONCE AND FOR ALL —-
Other blogging resources: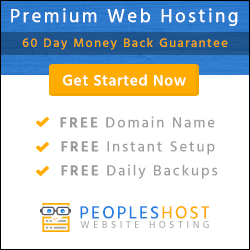 Next Steps
Once your blog has been migrated over to the new PeoplesHost server. You get a welcome email from their hosting folks that you want to save. You will login to WordPress the same as always. Your theme and all is migrated. It is super simple if you have the right hosting company.
I have been using PeoplesHost to host multiple websites and blogs for me over the past four years. I cannot say enough good things about them. I am a fairly tech savvy person, but sometimes I need a little help. Last night for example, I was having trouble connecting my email to my Outlook program.
At 10pm MST, I was able to hop on a the chat and get help immediately. I have worked with a lot of hosting companies over the years and none compare to PeoplesHost.
Avoid Bluehost
You will hear a lot of bad reviews about BlueHost and then you will hear a lot of bloggers say they use them. I suggest you listen to the bad reviews. The company is too big, they don't care about the little guys.
Stand up for what you believe in
Don't just follow the crowd 😉
Are you new to blogging?
If you are ready to start your migration, contact PeoplesHost. If you are new to blogging, I have put together a free blogging for beginners course. It is designed to get your blog up in running over the course of six days.
Blogging is a lot of work, especially if you want to run your blog as a business. If someone is telling you otherwise, that they just blog a few hours per week, they are trying to sell you a lifestyle that doesn't exist. After you have set up your blog and have the lay of the land down, you will be able to work less. But the initial set up is very time consuming.
The work is hard, but it is fun.
Jena's 6 Day Free Blogging for Beginners Course
Day 1: Setting up your WordPress Blog
Day 2: Monetizing your WordPress Blog
Day 3: Adding WordPress Plugins and Which Plugins to Add
Day 4: Creating a Product and Email List
Day 5: Using Keywords to Drive Traffic to Your Blog
Day 6 Marketing Your Product Through Your Email List